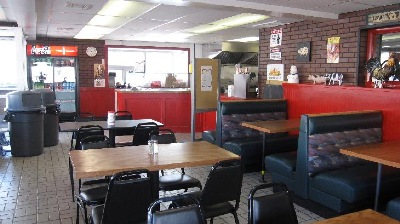 Thank you for visiting our new Internet site. We want to give you the opportunity to stay in touch with our restaurant and our offers.

If you are not familiar with Joey's BBQ, you should know the following about us: our company was established in 2003 and had been responsible for providing outstanding Authentic Southern Barbeque, Specialty Sandwiches, Hamburger Specials and Many Delicious Sides ever since. Our regular customers particularly value our BBQ Baby Back Ribs, Chicken, Pulled Pork, and our Kelly's Hero (sliced ribeye on garlic bread).

Let us cater your next special event or party. We will personally meet with you to plan your menu and customize it to cater to your needs and make it the most successful and memorable event! If you have any special requests for a different type of menu, in addition to Barbeque, we can also add Italian, or any other style food, sandwich platters, appetizers, and many different sides, from formal to casual, we do it all!

Our business is located at 644 Gravel Pike, East Greenville, PA, 18041, stop by and see us!

In the meantime you can reach us at (267)-923-8041. We are looking forward to hearing from you. You can also contact us at our e-mail address: bbq@joeysbbq.comcastbiz.net or visit us on Facebook at Joey's BBQ, Inc.